This season marks another milestone for Adriana Marie and her newly found company AMCONYC.  14 designers, 20 celebrities, two performances, 300 gift bags and much more!
On Sunday, February 15, 2015, AMCONYC will produce a Pop Up Shop and Runway show for 14 emerging designers with two live performances, celebrity guest appearances and special DJ Alex Edge.
This day of fashion will have two segments. The pop up shop will be open to the public and will run from 12 PM- 5 PM.  At 6PM, the doors for the fashion show will open. RSVP is required for the fashion show!  The show starts at 7.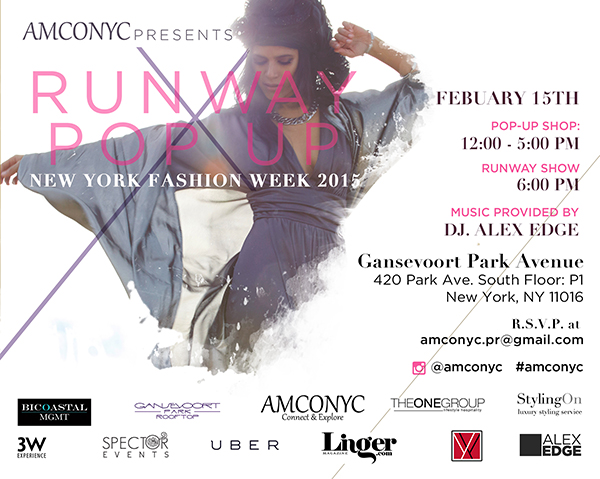 Here is where our guests will see the designs come to life on the runway.  Directly after the show, the pop up shop will reopen and our guests will be able to meet the designers and purchase what they've seen on the runway.
AMCONYC Pop Up X Runway has secured a designated area for key Bloggers called our Blogger Pit for bloggers to sit comfortably and work for the day!  No  more long lines at Lincoln Center!
This AMCONYC fashion week event should not be missed!  Must be 21.
Need a ride?  Take an UBER.  First time users use code AMCONYC30 for a ride up to $30 for free and AMCONYC10 for existing users for 10% off!
Media and Press please RSVP to amconyc.pr@gmail.com with credentials.  Press hour is set for 1 pm.
For daily updates follow us on instagram @amconyc and use hashtags #amconyc and #popupxrunway for a chance to win some sweet prizes!
Very excited for this AMCONYC Fashion Week 2015!